| | |
| --- | --- |
| | Thanks for Shopping here! |
Latest Model Motorola Cordless Phone.Motorola 2.4GHz Answering System Cordless Phone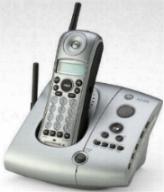 $53.99 Best Price Ever!!
Motorola 2.4GHz Cordless Phone with Caller ID and Answering System #53675
Features
2.4 GHz cordless phone system
Caller ID*/Call Waiting ID*
All-digital answering system
10 speed-dial resets
Wall mountable and hearing aid compatible
Item Weight: 3.0 pounds
Made in USA
Product Description
Throw out those old answering machine tapes and store your messages on a computer chip with this Motorola 2.4GHz cordless phone. All-digital answering system lets you skip, save, replay or delete messages without rewinding a tape. Retrieve messages from the handset or via remote dial in. Digital LCD Caller ID* also displays calls waiting. Durable gray plastic phone features easy-grip rubber sides. Other features include 10 speed-dial resets, backlit display and keypad, handset locator, low battery alert, last number redial, messages-waiting indicator and hearing-aid compatibility. Includes belt clip and rechargeable battery. Wall mountable. *Requires phone company service. No. #53675. Imported.


Regular Price $69.99
SALE Price $53.99
Sales Tax$4.39
Shipping & Handling$25
Total: $83.38



Copyright © 2001 #1 Best Price Electronics
All rights reserved.
Website Design by STREAM INFORMATION BROKERS