Insignia 9 inch Widescreen LCD DVD player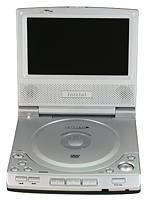 Best Price Ever!!
Break up the monotony of a long car ride with this 7" portable DVD player that features 2 headphone jacks, so 2 people can listen and watch at once.


Top-loading player plays DVD, DVD+R, DVD+RW, DVD-R, DVD-RW, CD, CD-R, CD-RW, MP3 and JPEG


7" widescreen LCD display with high-resolution and high brightness

16:9 aspect ratio






Specialized DVD controls include previous, next, up, down, left, right, menu, wide and play/pause






1-1/4" thin for maximum portability






Adjustable volume and brightness controls for a customized viewing experience






2 built-in stereo speakers






Inputs: composite A/V






Outputs: 2 headphone, composite A/V






NiMH rechargeable battery (included) for up to 3 hours of playback time






A/V cable, car power adapter, AC/DC adapter and remote included

PRODUCT#0050814
Regular Price $179.99
SALE Price $119.99
Sales Tax$10.62
Shipping & Handling$40
Total: $170.61 Safest and 100% Secure Shopping Guaranteed! We donít see or collect Your Info! No accounts to register and sign in! Submited form info is forwarded straight to Your Bank! We receive as feedback from Bank only Your Name, Product Name, Quantity,Amount of Money paid!



Copyright © 2001 #1 Best Price Electronics
All rights reserved.
Website Design by STREAM INFORMATION BROKERS