Thanks for Shopping at #1 best Price Electronics!Limited Time Opportunity! Manufacturer Direct Promotion Only This week! Ends Soon!! 2007 Holiday Gifts Giant Size Sale!! Fantastic Huge Discounts! Check out Our Managerís Specials! Order Yourís HERE Now! Convenient, Fast, Simple and Easy Online Order! Why wait?? Everybody likes and buys this COOL staff!!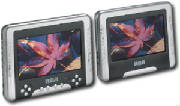 Enjoy backseat boredom with 30 preloaded games on the game pad included with this dual-display portable DVD player.
Plays DVD, DVD+R/RW, DVD-R/RW, CD, CD-R/RW, VCD, SVCD, JPEG, MP3 and WMA formats





Dolby Digital virtual surround sound






Game controller with 30 games provides additional entertainment options






7" dual TFT-LCD display screens with 480 x 234 pixel resolution; included cable connects the 2 screen selectors






16:9 aspect ratio with selectable 4:3 and letterbox






96kHz/24-bit audio digital-to-analog (D/A) conversion






108MHz/12-bit video digital-to-analog (D/A) conversion






1-5/8" thin for easy portability; ideal for travel






Front panel controls include volume, info, menu, navigation control, open, play, power, reverse, forward, setup, skip and stop






Trilingual menu options allow you to select from English, French and Spanish






TV Guardian scans subtitle data and mutes the audio when offensive language is detected






Headphone jacks for private listening






USB input connects most MP3 players and media card readers for viewing digital images and listening to your digital music files






Outputs: 1 composite video, 1 stereo audio and 5.1-channel






A/V cable, car adapter, car mounting equipment, carrying case, game pad and power cord included
PRODUCT#0050897

Regular Price$249.99

SALE Price$179.99

Sales Tax$14.85

Shipping & Handling$60.00

Total: $254.84USD

Safest and 100% Secure Shopping Guaranteed! We donít see or collect Your Info! No accounts to register and sign in! Submited form info is forwarded straight to Your Bank! We receive as feedback from Bank only Your Name, Product Name, Quantity, Amount of Money paid!



Copyright © 2001 #1 Best Price Electronics
All rights reserved.
Website Design by STREAM INFORMATION BROKERS