Thanks for Shopping at #1 Best Price Electronics!Limited Time Opportunity! Manufacturer Direct Promotion Only This week! Ends Soon!! 2007 Holiday Gifts Giant Size Sale!! Fantastic Huge Discounts! Check out Our Manager's Specials! Order Your's HERE Now! Convenient, Fast, Simple and Easy Online Order! Why wait?? Everybody likes and buys this COOL staff!!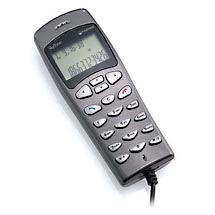 PC calling anywhere: The pre-loaded Vonage Talk software and compact phone make it simple to call from any PC with a high-speed Internet connection. Insert the Vonage V-Phone into any available USB port, plug the included earpiece/microphone into the side of the Vonage V-Phone and you're ready to make and receive calls. Safe and secure: Remove the drive when you're done and the phone and all your important contact information goes with you. Your own personal drive: As a bonus, the Vonage V-Phone includes 250MB of memory that can be used to store files, MP3 songs, digital photos or anything else you want to take with you. Save money: Avoid high long-distance bills by bringing the V-Phone on all your trips and calling from Internet cafés, hotels or anywhere with a high-speed Internet connection. Features such as call waiting, call forwarding and caller ID are included at no additional cost. Best of all, the phone is free after a $40 mail-in-rebate with Vonage activation. Note: Because Vonage V-Phone phone usage is a mobile activity, it is not compatible with E911 or Basic 911. However, if you dial 911 from your Vonage V-Phone, your call will be routed to the Vonage emergency call center. A trained agent will answer your call and contact an emergency center near you to dispatch help.

Phone Features
• Turn any PC into a phone • No batteries to replace • Pre-loaded with software • Free calling features • Includes 250MB memory • Includes phone number


Display Screen
LCD


Interfaces/Ports
1 x USB 2.0


Input Voltage
5 V DC ?5Device


Color
Red
Form Factor
Handheld
Dimensions
4.9" x 1.7" x 0.9"
Shipping Dimensions
6.7" x 5.8" x 1.5"
Weight
0.25 lb
Shipping Weight
0.5 lb


Package Contents

VPHONE USB IP Phone <

High quality, compact USB phone
Driver and sound card built in
Full duplex communication
Selectable ring tones
Noise reduction
Easy to use
USB power (no external or additional power required)
Answer, hang up and scroll contacts with a touch of a button

System Requirement

Windows 2000 or XP
400 MHZ processor (Pentium III) or higher
128 MB RAM or higher
USB port (1.1 or 2.0)
Internet connection (cable or DSL)

Compatibility

Voyage VoIP
Plug and Play for auto installation


Regular Price$59.99
SALE Price$39.99
Sales Tax$3.30
Shipping & Handling$30.00
Total: $73.29 Safest and 100% Secure Shopping Guaranteed! We don't see or collect Your Info! No accounts to register and sign in! Submited form info is forwarded straight to Your Bank! We receive as feedback from Bank only Your Name, Product Name, Quantity, Amount of Money paid!



Copyright © 2001 #1 Best Price Electronics
All rights reserved.
Website Design by STREAM INFORMATION BROKERS