Thanks for Shopping at #1 Best Price Electronics!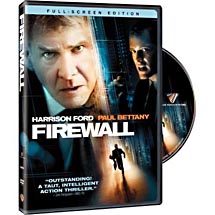 "Firewall" stars Harrison Ford as bank security expert Jack Stanfield, whose specialty is designing infallible theft-proof financial computer systems. But there's a hidden vulnerability in the system he didn't account for - himself. When a ruthless criminal mastermind (Paul Bettany) kidnaps his family, Jack is forced to find a flaw in his system and steal $100 million. With the lives of his wife and children at stake and under constant surveillance, he has only hours to find a loophole in the thief's own impenetrable system of subterfuge and false identities to beat him at his own game.
Featurette:, "Firewall: Writing A Thriller", Interviews:, Firewall Decoded: A Conversation with Harrison Ford and Richard Loncraine. Dual Layer, Now In Theaters.
| | |
| --- | --- |
| Starring: | Alan Arkin,Carly Schroeder,Harrison Ford,Jimmy Bennett III,Mary Lynn Rajskub,Paul Bettany,Robert Patrick,Virginia Madsen |
| | |
| --- | --- |
| Director: | Richard Loncraine |
PRODUCT #0050956
Regular Price: $24.99
SALE Price: $19.99
Sales Tax$1.64
Shipping & Handling$15.00
Total: $36.63



Copyright © 2001 #1 Best Price Electronics
All rights reserved.
Website Design by STREAM INFORMATION BROKERS