Limited Time Opportunity! Manufacturer Direct Promotion Only This week! Ends Soon!! 2007 Back to School Giant Size Sale!! Fantastic Huge Discounts! Check out Our Managerís Specials! Order Yourís HERE Now! Convenient, Fast, Simple and Easy Online Order! Why wait?? Everybody likes and buys this COOL staff!!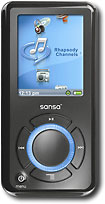 A sleek, ultra-thin digital audio, image and video player with 4 GB of flash memory. SanDisk's Sansa e260 features a bright, 1.8-inch color TFT LCD display for easy viewing of your favorite photos and videos. Also plays most music files so you can groove to your favorite tunes anytime, anywhere.

Formats Support
MP3 Playback


Storage Media
Flash Memory - Integrated
Storage Capacity
4GB Flash Memory


Interfaces/Ports
1 x Audio Line Out


Batteries
1 x Lithium Ion (Li-Ion)


Form Factor
Portable
Dimensions
3.5" Length x 0.56" Width x 1.74" Depth


Package Contents

Sansa e260 4GB MP3 Player
Travel pouch and Lanyard
Stereo Headphones
1 x Lithium-ion Rechargeable Battery
USB Cable
Quick Start Guide
CD with User Guide
Additional Flyer Inserts

Max. Storage Capacity:
4 GB
Memory Type:
Built-in, Flash
FM Stereo Tuner:
Yes
Dimensions:
3.5" L x 1.7" W x 0.6" D
Battery Life:
Up to 20 hours
1. Special Features:
Plays photos and video in addition to digital music
Battery Quantity:
1
Battery Type:
Rechargeable lithium-ion battery
Digital Audio Formats:
MP3, WMA, Works w/Walmart Music Downloads
PC Compatible:
Yes
Expandable Memory:
microSD expansion slot for additional memory capacity and support for SanDisk TrustedFlash and gruvi content cards, which can be shared with mobile phones
Data Storage:
Yes
Voice Recording:
Yes
Interface:
USB 2.0, compatible with USB 1.1
Headphones:
Stereo Headphones
Hrs. of Music (approx):
66 (MP3) or 132 (WMA)
# of Songs (approx):
1,000 (MP3) or 2,000 (WMA)
Model No.:
SDMX4-4096-A70
Shipping Weight (in pounds):
2.7
Product in Inches (L x W x H):
1.74 x 0.56 x 3.5
Instruction Manual:
Y
Instruction Languages:
English/French/Spanish

Sansa e 200 series player
travel pouch and lanyard
stereo headphones
lithium ion rechargable battery
USB cable
quick start guide
CD with user guide
and additional flyer inserts
PRODUCT#0050953
Regular Price$199.99
SALE Price$149.99
Sales Tax$12.37
Shipping & Handling$30.00
Total: $192.36 Safest and 100% Secure Shopping Guaranteed! We donít see or collect Your Info! No accounts to register and sign in! Submited form info is forwarded straight to Your Bank! We receive as feedback from Bank only Your Name, Product Name, Quantity, Amount of Money paid!



Copyright © 2001 #1 Best Price Electronics
All rights reserved.
Website Design by STREAM INFORMATION BROKERS