| | |
| --- | --- |
| | |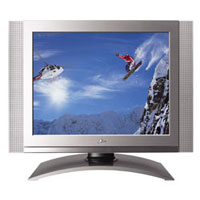 HDTV - it's one of the most revolutionary technologies to hit home entertainment since the color TV. But it wasn't so long ago that nobody was quite sure if it would ever become a reality.Experience the superior picture quality of this excellent integrated HDTV with the latest LCD technology and Pixel Plus. It's packed into a stunning design that will complement your interior. Share music and photos via the built-in USB. The Basics Display type: LCD flat-panel Screen resolution: 720p (1366 x 768) Aspect ratio: 16:9 Contrast ratio: 3200:1 dynamic contrast ratio Tuner type: NTSC, ATSC, QAM Connection options HDMI inputs: 2, Supports 480i/480p/720p/1080i/1080p. Component inputs: 2, with 2 stereo audio inputs. Supports 480i/480p/720p/1080i. USB inputs: 1 See specifications table for more feature and connection options Dimensions Height: 21.5" (24" on optional base) Width: 31.6" (31.7" on optional base) Depth: 4.5" (8.3" on optional base) Weight: 33.8 lbs. (38.5 lbs. on optional base) Features Pixel Plus 3: Pixel Plus 3 HD offers the unique combination of ultimate sharpness, natural detail, vivid colors and smooth natural motion on all qualities of HD, standard TV signals, and multimedia content. Each pixel of the incoming picture is enhanced to better match the surrounding pixels, resulting in a more natural picture. Artifacts and noise in all sources from multimedia to standard TV and also in highly compressed HD are detected and reduced ensuring that the picture is clean and razor sharp. USB port: The USB connector allows access to multimedia .jpg, .mp3, mp3-pro and .alb files on most USB drives and most digital cameras. Plug the USB device into the slot on the side of the TV to access your photos or music files. This makes viewing and sharing your photos and music easy. NTSC/ATSC/QAM tuner: The ATSC tuner lets you receive free digital broadcasts, including HD signals, through an over the air antenna. QAM allows you to receive unscrambled HD from your cable provider without a set top box. The NTSC tuner will allow you to tune in to analog signals until the 2009 cutoff. Dynamic contrast enhancer: You want the flat display with the highest contrast and most vibrant images even at wide viewing angle. The Philips dynamic contrast enhancer uses video processing and unique dimming backlight technology. This delivers deep rich black levels with increased detail. The dimming backlight increases the contrast up to 5 times, and improves the viewing angle at the same time. It gives a bright, lifelike picture with high contrast and vibrant colors. Virtual Dolby® Surround: Virtual Dolby Surround is a processing technology for enhancing surround sound effects. It creates the sensation of Dolby Pro Logic without the necessity of additional rear speakers. You become totally immersed in your television experience. Slim design: This design style emphasizes a slim, compact look that saves space and fits in anywhere. Plug and play: Plug and play gives you the ability to install or add a new component and have it work without having to perform any complex installation procedure or technical analysis. Dual HDMI inputs: HDMI forms an uncompressed digital connection from the source to the screen. By eliminating conversion to an analog signal, it delivers an unblemished image. The non-degraded signal reduces flicker and leads to a clearer picture. HDMI intelligently communicates the highest output resolution with the source device. The HDMI input is fully backward compatible with DVI sources but includes digital audio. HDMI uses HDCP copy protection. With 2 HDMI inputs you can connect multiple HD sources, such as an HD set-top box and a Blu-ray player.

Regular Price $999.99
SALE Price $899.99
Sales Tax$74.25
Shipping & Handling$120.00
Total:$1094.24USD Safest and 100% Secure Shopping Guaranteed! We don't see or collect Your Info! No accounts to register and sign in! Submited form info is forwarded straight to Your Bank! We receive as feedback from Bank only Your Name, Product Name, Quantity, Amount of Money paid!



Enter supporting content here